IEEE ISCAS 2024, Singapore, May 19-22, 2024
The IEEE International Symposium on Circuits and Systems (ISCAS) is the flagship conference of the IEEE Circuits and Systems (CAS) Society and the world's premier forum for researchers in the active fields of theory, design and implementation of circuits and systems. ISCAS 2024 is inspired by the theme "circuits and systems for sustainable development", which is perfectly aligned with the host city's goal.

The symposium highlights a wide range of innovatition themes including: Artificial Intelligent and Deep Learning, Smart Systems for Automotive, Brain: Innovation Neurotechnologies, Intelligent Cyber Security Systems, Food Security and Climate Change, Ultra Low Power Circuits and Systems.
Special initiatives include: Emerging Technologies Workshops on Information Security, Climate Change, and GeronCAS; Cross-Society Special Sessions which is co-organized by CASS and other IEEE societies/councils, on recent attractive themes for cross-disciplinary collaboration; and Special Sections in IEEE Transactions (invited publication in TCAS-I, TCAS-II, TBioCAS).
Symposium Website: https://2024.ieee-iscas.org/
_______________
APCCAS 2023, Hyderabad, India  (November 2023)
The 19th edition of the Region 10 flagship conference of IEEE Circuits and Systems Society (CASS), the Asia Pacific Conference on Circuits and Systems (APCCAS 2023) will be held in Hyderabad, India. The conference will be held for the first time in India. The IEEE CASS Hyderabad Chapter is hosting the conference with the support of CASS chapters in Bangalore, Delhi, Kerala and Kolkata.
The theme of APCCAS 2023 is "Safe, secure and smart circuits & systems for a sustainable society ".
Safety is the foremost requirement for any commercial system, and especially automotive, aviation and other segments where human life is involved. Functional safety is thus the top priority. A secure system is must have for all IoT and other applications that contain user information. With time traditional systems are miniaturized and loaded with multifold features and deployed for different use-cases giving birth to smart systems for a sustainable society.
APCCAS 2023 will bring together academia, industry, government & research organizations working in circuits & systems from across the globe to share their cutting-edge research.
Conference Website: https://www.apccas2023.org/index.html
_______________
ICECS 2023, Istanbul, Turkey  (December 2023)
The IEEE 30th International Conference on Electronics, Circuits and Systems (ICECS) will be held in Istanbul, Turkey 4-7 December 2023. As the flagship conference of IEEE Circuits and Systems Society in Region 8 (Europe, Middle East, and Africa), ICECS 2023 will consist of tutorials, plenary lectures, regular, special and poster sessions focusing on recent trends, emerging technologies and advances.
Tracks
Analog/Mixed-Signal/Microwave Circuits
Bio-Medical, Bio-Inspired Circuits/Systems
EDA, Test and Reliability
Digital Circuits and Systems
Linear and Non-Linear Circuits and Systems
Non-Linear Devices, Memristors
Low-Power, Low-Voltage Design
Embedded and Micro/Systems
Neural Networks, Machine/Deep Learning
Sensors and Sensing Systems
Signal Processing, Image and Video
VLSI Systems and Applications
Smart Systems for CAS Applications
Important Dates
Special Session and Tutorials Proposals: May 26, 2023
Notification of Special Session Acceptance: June 2, 2023
Paper Submissions: June 16, 2023
Notification of Paper Acceptance: September 15, 2023
Camera-Ready Paper Submission: October 13, 2023
For inquiries, please e-mail to icecs2023@isikun.edu.tr
Website: https://icecs2023.isikun.edu.tr/
_______________
LASCAS 2024, Punta del Este, Uruguay  (February 2024)
The 15th edition will take place in Punta del Este, Uruguay. With its lush landscapes, pristine beaches, and sophisticated amenities, has established itself as a premier tourist destination in South America. It offers an unparalleled experience, where visitors can immerse themselves in a rich blend of natural beauty and modern luxury. The city is easily accessible by air, with regular flights from major cities in South America, and just 90 minute from Montevideo and its international airport. Punta del Este is ready to receive you.
Important Dates:
Paper/Special Session/Tutorials Submission: 1 September 2023
Notification of acceptance: 20 November 2023
Camera-ready: 30 November 2023
 Conference Website: https://ieee-lascas.org/
_______________
IEEE AICAS, Abu Dhabi, UAE  (April 2024)
Artificial Intelligence (AI) is driving a revolution in information technology as well as in many industries. New computing paradigms are required to support the emerging AI algorithms and applications, running on a diversity of platforms, from edge devices to cloud servers and from circuit level to system level. Addressing this challenge and opportunity, the AICAS conference has been established as the premier conference of the IEEE Circuits and Systems Society to promote and facilitate state-of-the-art research, innovation, and development activities at the frontiers of artificial intelligence circuits and systems. It serves as an excellent platform allowing world scholars, technology researchers, and industry to exchange experiences, demonstrate their studies, and further advance AI circuits and systems technologies. 
Conference Topics
Circuits and systems for AI
AI for Circuits and Systems
Deep learning/machine learning/AI algorithms
Tools/platforms for AI
Architecture for AI computing
Hardware/software co-design and design automation for AI systems
Advanced neural network design
Neuromorphic circuits, processors, and systems and their applications
Emerging applications: Internet-of-things, healthcare, smart factories, environment
Emerging devices and materials for AI
Computer vision algorithms and architectures
Recommendation system, language/text processing
Autonomous/unmanned vehicles and drone
Robotics and automation
Metaverse and AR/VR
Deep learning/machine learning for Future Wireless Communications
Important Dates: 
20 October 2023: Submission of Tutorial Proposals / Special Session Proposals
20 November 2023: Acceptance Notification of Tutorial Proposals/ Special Session Proposals
23 November 2023: Submission of Regular / Special Session Papers and Live Demos
15 January 2024: Acceptance Notification of Regular / Special Session Papers and Live Demos
15 January 2024: Notification of Paper Acceptance
15 February 2024: Submission of Camera-ready Papers
Conference website: https://aicas2024.org/
_______________
IEEE Life Member Conference, Austin, USA  (April 2024)
We are excited to announce the inaugural Life Member Conference, designed to strengthen the engagement of IEEE's 38,000 Life Members in shaping our collective future. Life Members represent all disciplines across the IEEE's fields of interest. We are also dedicated to giving back and sharing our expertise with the next generation. The conference has three tracks: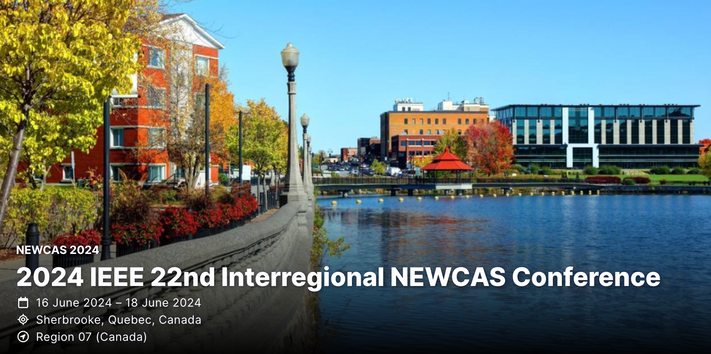 Our growing list of speakers include Rodney Brooks (iRobot), John McDonald (GE), Whurley (Strangeworks), Manuela Veloso (JP Morgan), Bernie Sander (AMD), Julie Shah (MIT) (and more!). Speaker commitments are ongoing and over the summer and fall, we'll have a large list of exciting and engaging speakers, keynotes and topics to share. Join other Life Members, Senior Members, influencers, innovators, technical professionals, and members of the STEM community in Austin for this inaugural event. Registration will be limited, so be sure to secure your spot early. 
Stay tuned for further details about the conference at https://life.ieee.org/news-events/ieee-lifemember-conference and our social media channels. 
_______________
NEWCAS 2024, Sherbrooke, Quebec, Canada  (June 2024)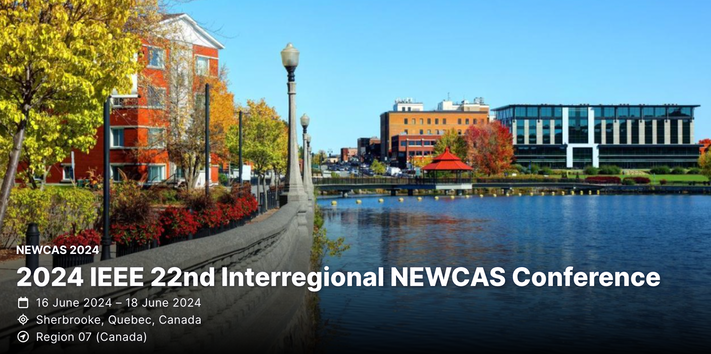 The 22nd IEEE Interregional NEWCAS Conference (NEWCAS 2024) will be held in Sherbrooke, Quebec, Canada, from 16-19 June 2024. More details coming soon.
_______________
RFIC 2024, Washington DC, USA  (June 2024)
The 2024 IEEE Radio Frequency Integrated Circuits Symposium (RFIC 2024) is the premier forum focused exclusively on presenting the latest research results in RF, millimeter-wave, and wireless integrated circuits. Continuing in 2024: RFIC has expanded its focus to include systems, applications, and interactive demonstrations, including mobile systems for 5G and beyond, radar, imaging, satellite communications, terahertz, biomedical, and optoelectronic systems.
Technical Areas: The symposium solicits papers describing original work in all areas related to RF, mm-Wave, THz, and wireless systems and ICs. Work must be demonstrated through IC hardware results and measurements.  
Format and Location: The 2024 symposium is planned as an in-person conference. Events will be held at the Walter E. Washington Convention Center in Washington, DC. RFIC 2024 starts on Sunday, June 16, 2024, with a large selection of workshops followed by two plenary talks and a reception featuring our top industry and student papers. Monday and Tuesday, June 17-18 will comprise oral presentations, panel sessions and student event.
Microwave Week 2024: RFIC 2024 kicks off Microwave Week. The week continues with the International Microwave Symposium and then the ARFTG Microwave Measurement Conference. This week is the world's largest and most important gathering of RF and microwave professionals in the field with more than 9000 participants.
Industry Exhibition: A three-day Exhibition typically showcases more than 900 Exhibitors who represent the stateof-the-art of the industry covering everything needed for RF and microwave design. More on the format of the 2024 Exhibition is found on both RFIC and IMS websites.
Electronic Submission Deadlines :
Manuscript in PDF format: January 9, 2024
Final Manuscripts for the RFIC Digest: March 7, 2024
Website: https://rfic-ieee.org/