IEEE Circuits and Systems Society 2018 Awards
the NEW IEEE Circuits and Systems Society Resource Center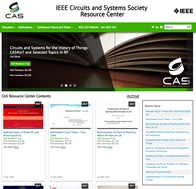 The CASS Resource Center is a one-stop-shop for valuable content relevant to the IEEE CASS Field of Interest. The following are now available on the Resource Center:
Keynote Presentations from CASS Events

Conference Videos and Slides

eBooks
These materials are free for all CAS Society Members and a minimal fee for IEEE members and non-members.
VISIT THE RESOURCE CENTER  NOW!!
IEEE CAS is pleased to congratulate the following recipients of the 2018 IEEE Circuits and Systems Society Awards. The Society is especially proud and happy to honor their outstanding accomplishments and we look forward their continuous involvement and close contact with CAS.
Mac Van Valkenburg Award
Eby G. Friedman
For technical leadership in high performance integrated circuit design
Charles A. Desoer Technical Achievement Award
Srinivas Devadas
For the development of Physical Unclonable Functions and enabling the deployment of secure circuits, processors and systems
John Choma Education Award
David J. Allstot
For sustained contributions with global impact on integrated circuits and systems education 
Meritorious Service Award
Thanos Stouraitis
For devoting long-term outstanding service to the IEEE Circuits and Systems Society, as Chair of several CASS flagship Conferences, as Vice President for Conferences, and as CASS President
Industrial Pioneer Award
Reza Rofougaran
For pioneering research in RF-CMOS followed by a leading role in the industrialization of single-chip CMOS radios-on-a-chip that enable the smartphone
Darlington Best Paper Award
Jia Zhou, Tong Ge, Joseph S. Chang
"Printed Electronics: Effects of Bending and a Self-Compensation Means" IEEE Transactions on Circuits and Systems I: Regular Papers (Volume 64, Issue 3, March 2017) Pages 505 - 515
Very Large Scale Integration Systems Best Paper Award
Ryan Gary Kim, Wonje Choi, Zhuo Chen, Partha Pratim Pande, Diana Marculescu, and Radu Marculescu
"Wireless NoC and Dynamic VFI Co-Design: Energy Efficiency without Performance Penalty" IEEE Transactions on Very Large Scale Integration (VLSI) Systems (Volume 24, Issue 7, July 2016) Pages 2488–2501
Biomedical Circuits and Systems Best Paper Award
Adrien F. Vincent, Jérôme Larroque, Nicolas Locatelli, Nesrine Ben Romdhanem, Olivier Bichler, Christian Gamrat, Wei Sheng Zhao, Jacques-Olivier Klein, Sylvie Galdin-Retailleau, Damien Querlioz
"Spin-transfer torque magnetic memory as a stochastic memristive synapse for neuromorphic systems'', IEEE Transactions on Biomedical Circuits and Systems (Volume 9, Issue 2, Apr. 2015) Pages 166-174
Outstanding Young Author Award
Woorham Bae, et al.
"A 0.36 pJ/bit, 0.025 mm2, 12.5 Gb/s Forwarded-Clock Receiver With a Stuck-Free Delay-Locked Loop and a Half-Bit Delay Line in 65-nm CMOS Technology" IEEE Transactions on Circuits and Systems I: Regular Papers (Volume 63, Issue 9, Sept. 2016) Pages 1393-1403
Pre-Doctoral Scholarships
Gain Kim
Chapter of the Year Award
Rio Grande do Sul Chapter
Chapter Chair, Jose Rodrigo Azambuja
Region 9 Chapter of the Year
Peru Chapter
Chapter Chair, Carlos Silva Cardenas
The following awards were not given in 2018:

Vitold Belevitch Circuits and Systems Award (given biannually)
Guillemin-Cauer Best Paper Award
Circuits and Systems for Video Technology Best Paper Award
Region 1-7 Chapter of the Year
Region 8 Chapter of the Year
Region 10 Chapter of the Year